It's time to continue our lazy, but luxurious, barge cruise along the canals of Burgundy, France aboard European Waterways' hotel barge, La Belle Epoque. While I am confident that every literate person on the planet has read all of the previous installments of this journal and is waiting anxiously for this latest installment, I recognize that one or two people may have had problems with their internet connections and missed a chapter. No worries. I built a nice index to all the previous entries in the last installment, which you can access here. Feel free to go back and catch up. I'll wait.
OK, now that you know everything that has happened on the trip so far, let's go on, shall we?
We ended the last chapter as La Belle Epoque docked in Ancy-le-France, a small commune (about 1,000 residents) about 125 miles (200km) southeast of Paris.
There is a great boulangerie (bakery) in town (which is true of almost any small village in France) and not much else. If you look closely at the map, however, you will find one important site marked in Ancy-le-Franc, the fabulous Château d'Ancy-le-Franc.
It kind of reminds me of my summer place in the Hamptons. Not that I actually have a summer place in the Hamptons. Or anywhere else for that matter. Still, if I had a summer place in the Hamptons, this is what it would look like.
Here is an aerial view of the Château, courtesy of the Auxerre en Bourgogne website.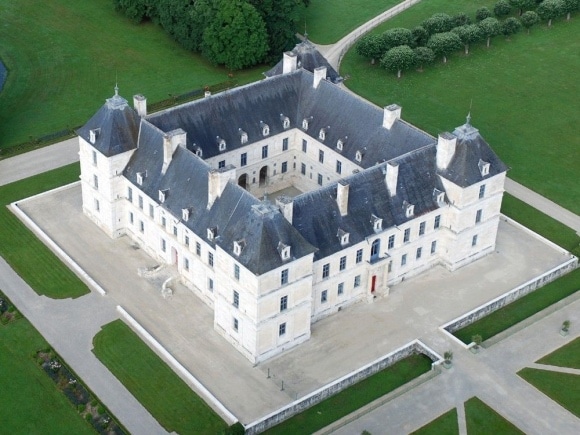 The Château was built by Antoine III de Clermont who inherited considerable land and wealth from his mother, Anne de Husson, Comtesse de Tonnerre. He inherited still more land and wealth from his cousin, Claude of Clermont, who died about the same time. He contacted the then-famous Italian architect Sebastiano Serlio, who had been invited to France by King Francis I, to design and build a château. Construction began in 1544, but Serlio died in 1554 before the château was completed. A French architect, Pierre Lescot, completed the exterior according the Serlio's design, while the interior was done by another Italian architect, Francesco Primaticcio. The result is considered a masterpiece of Italian Renaissance architecture.
The château remained in the Clermont family for over a century. A number of kings stayed in the château, including Henry III (brief visit), Henri IV in 1591, Louis XIII in 1631 and the Sun King himself, Louis XIV in 1674. By the time Louis XIV visited, the Clermonts had sold the château to Louis' Minister of War, François-Michel Le Tellier, Marquis de Louvois in 1673. The Louvois family retained ownership until 1844, when the Clermonts repurchased their ancestral home. After passing through a couple of other owners, the Château d'Ancy-le-Franc became too expensive for a family to operate and it fell into disrepair until it was purchased by the Société Paris Investir SAS, a private company that has worked to restore it. It is now recognized and protected as a national historic monument.
The interior of the château is an art museum. The walls are covered with beautiful murals and paintings and the woodworking, carvings and architectural details on the walls, floors and ceilings is amazing. Unfortunately, I can't show you any of that as photography is not allowed inside the château. So, we'll have to settle for a stroll around the grounds.
Here is the walkway that leads from the street up to the gate of the château.
Kind of like the driveway up to your house, right?
The first thing you see on entering the grounds looks like a magnificent manor house.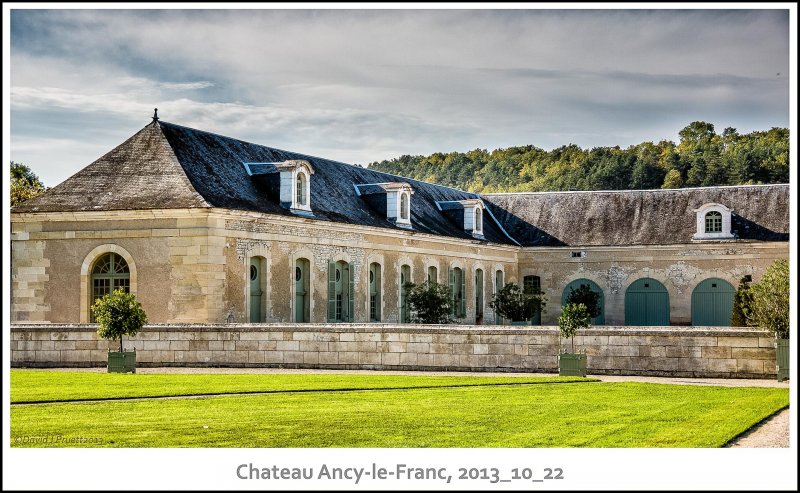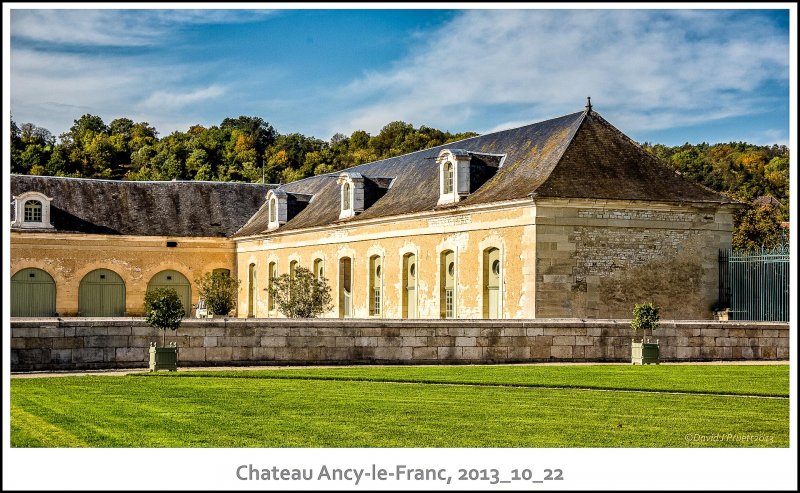 This, however, is the stables, or was when it was built.
So the horses at Château d'Ancy-le-Franc had a nicer house than I do.
I did, however, bring something with me as beautiful an anything in the château, my wife, Valeria.
She entered the château proper through the main door, along with several of our fellow travelers on La Belle Epoque.
Two massive Tuscan columns support the balcony above the entrance. A closer look at the detail above the door gives you one idea of the amount of work that went into the art throughout the château.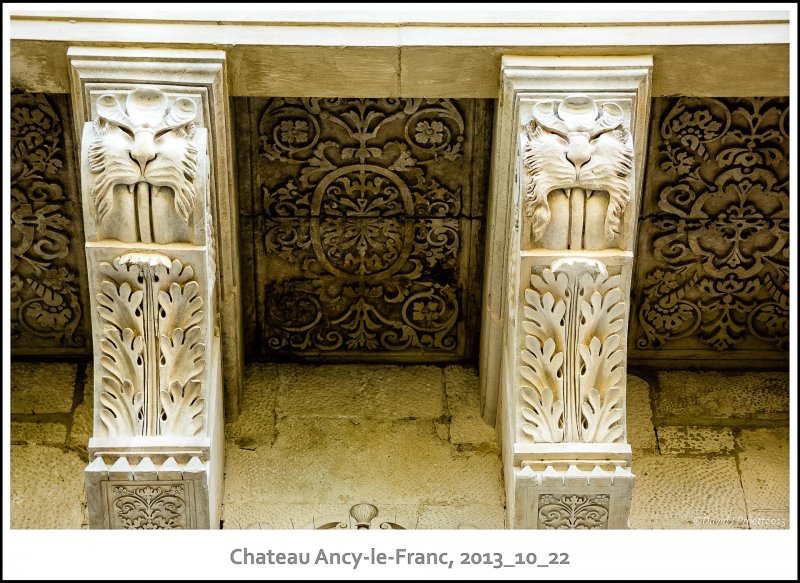 Here is the door knocker you would use to tap out the secret knock to get in. (Kidding. You would be seen coming a mile away. The door would be open if you were a friend and you would be shot before you got to it if you were an enemy.)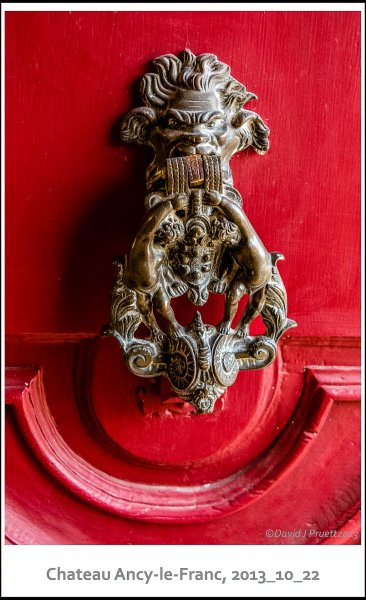 The château is built in a perfect square around a courtyard that must have held some pretty fabulous feasts and parties back in the day.
While I was not allowed to take photographs inside, you will find some shots of the interior here.
We did have some time to stroll around the grounds, which cover about 125 acres (50 hectares). Over the centuries after the château was built, various owners built and expanded the gardens around the main building. I was especially intrigued by the Pyramid Fountain (my name; no idea if it has an official title).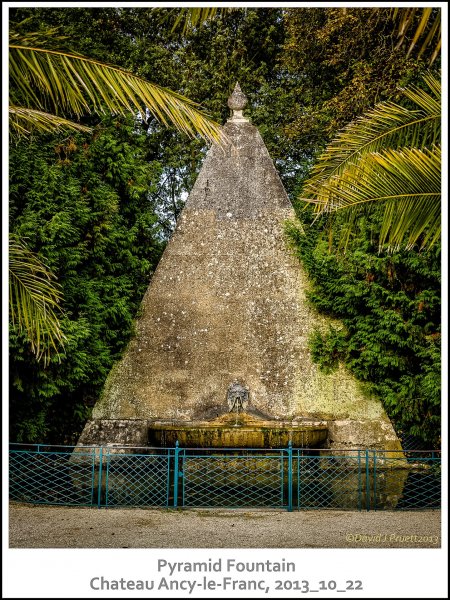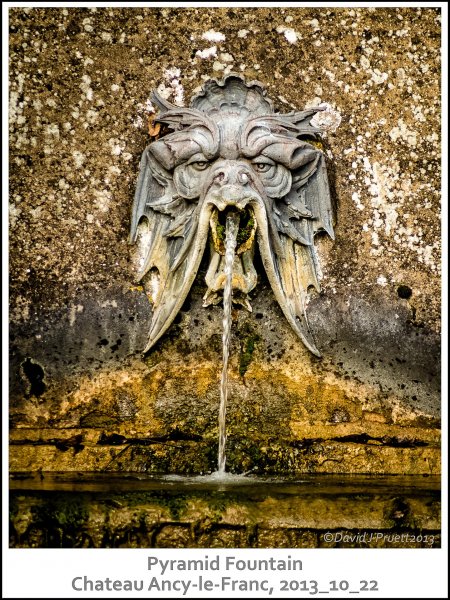 The head from which the fountain flows looks like a weary dragon to me. I love the detail.
After touring the Château we all piled back into our vans and were soon back at our dock on the canal.
But we weren't there for long. You may recall from earlier posts that this barge trip included a special walking tour itinerary with Eric Bonal from The Wayfarers, an organization that specializes in walking tours all over the planet. Today, Eric planned a trip to the ancient village of Chassignelles, about a 30 minute walk from where we were docked in Ancy-le-Franc.
The village has a population of only around 300, but it has one noteworthy attraction: the 13th Century Church of St. John the Baptist with its nearby, walled cemetery.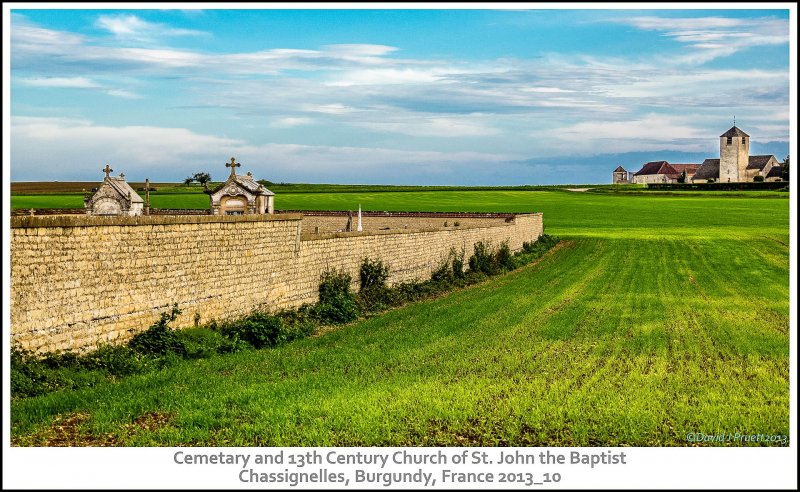 The cemetery dates back to the founding of the church and is still used today. We saw locals laying flowers on the graves of (presumably) loved ones.
The church building is a Romanesque design that has survived the weather and wars for 800 years.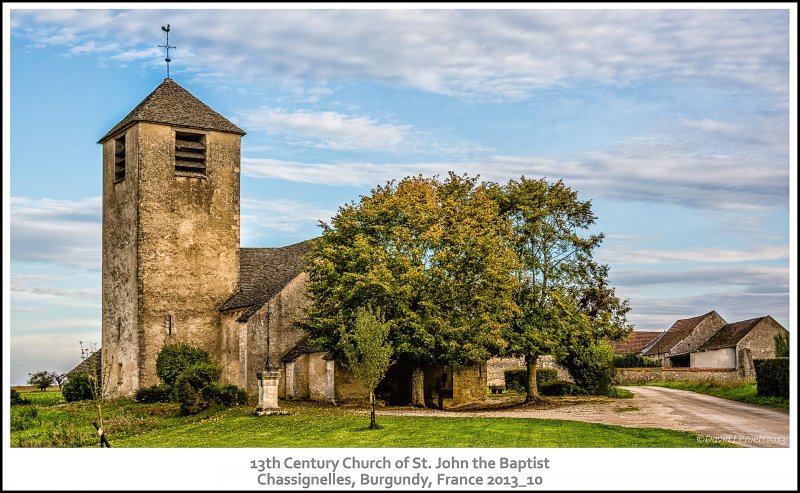 The lauze (flagstone) roof became popular during the 13th century despite the fact that it can weigh up to 1 metric ton (2200 pounds) per square meter (1.2 yd2).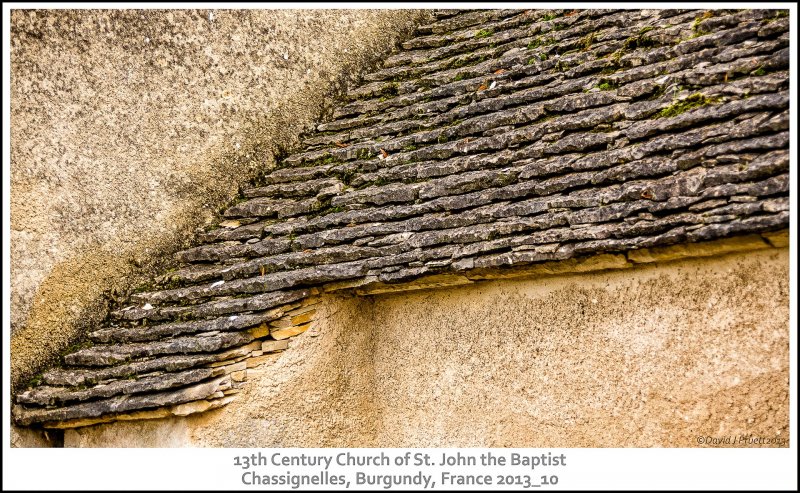 The building did not escape the centuries unscathed, however. Here you can see the weapon slits carved into the walls for archers and, later, riflemen.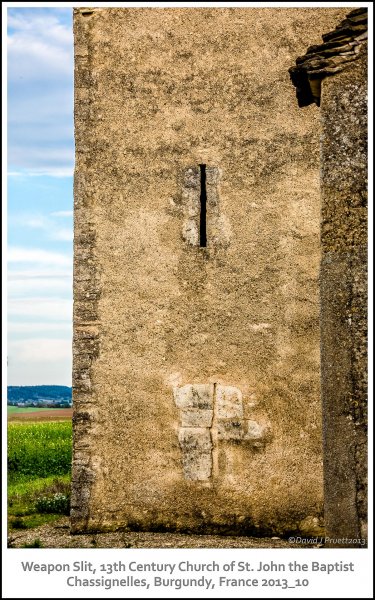 Time and wear had taken their toll as well, and in 1982 detailed surveys cataloged the extensive restoration that was needed. The work did not begin until 2004 and it was completed in 2008. In addition to restoring and repairing the visible structure, a collection of murals, some dating back to the founding of the church, were uncovered as the walls were cleaned and restored.
This mural is a rendering of The Annunciation, with the Archangel Gabriel announcing to Mary that she will have a son.
The vaulted ceiling is beautifully decorated.
The altar is not as ornate as some you may have seen…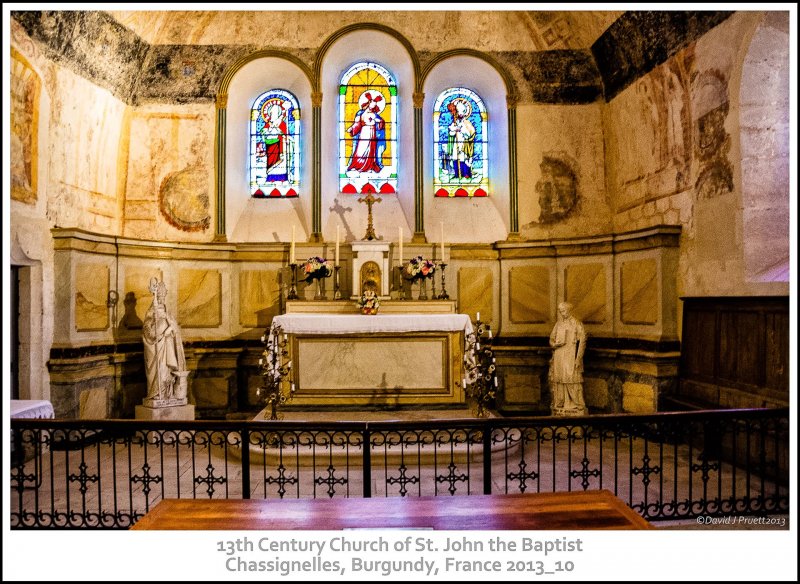 …but the stained glass above it is beautiful.
I could not find a date for the statue of the Madonna and Child…
…or the statue of Jesus as the Good Shepherd…
…but they are clearly an ancient style. The church is somewhat off the beaten path, but the art and architecture here are worth the walk.
We walked across the countryside to get to the church, but walked back through the village of Chassignelles to return to the barge, which was an amazing thing for this guy and his camera. The centuries-old buildings, often covered with ivy or other plants, were beautiful.
Colorful doors and windows…
…lined the narrow streets where the locals walked their dogs…
…tended their gardens…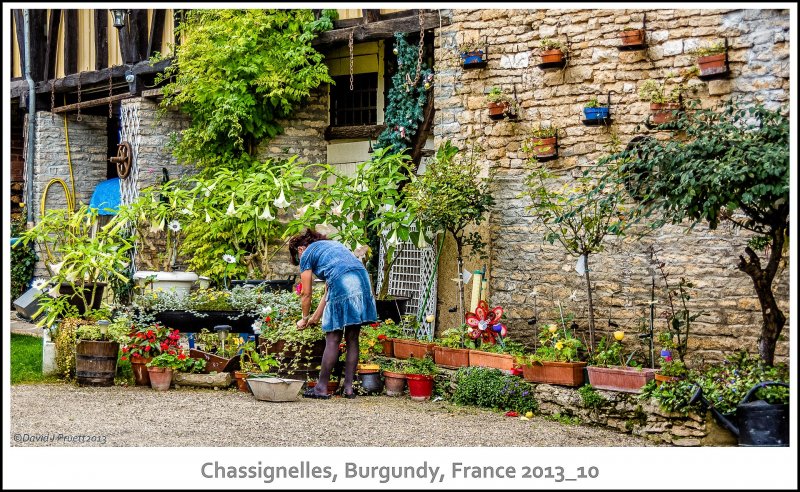 …and just watched the world go by.
Soon we were back on the tow path along the canal…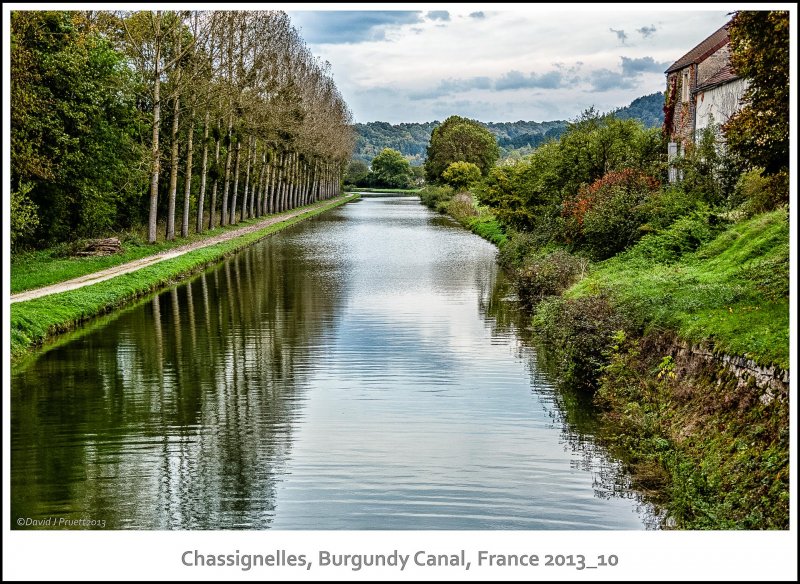 …which led us "home" to La Belle Epoque.
Just standing on the deck where we were docked offered up any number of interesting (and photogenic) buildings.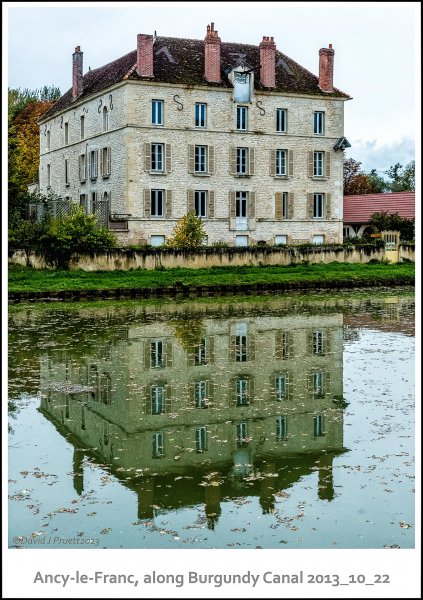 But enough art and architecture! It's Happy Hour! That means wine…
…and some of Chef Katy's delicious hors d'oeuvres.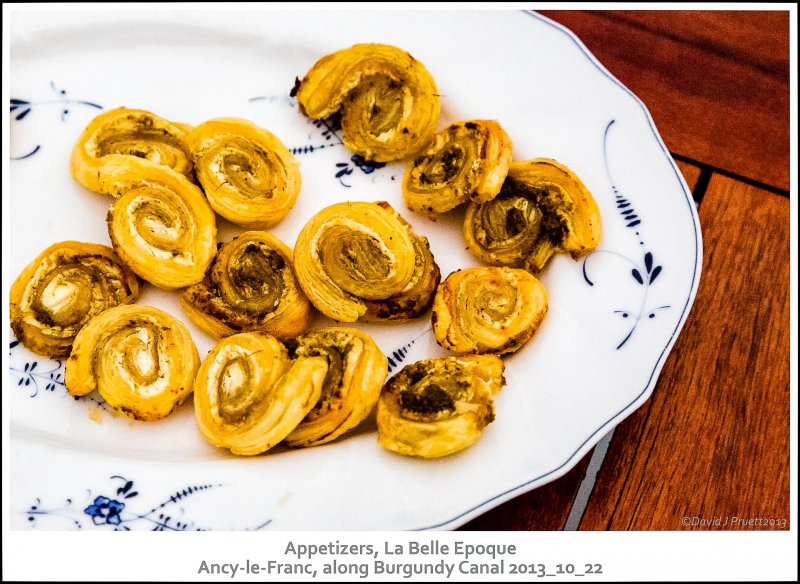 While we relaxed with our pre-prandial sips and bites, we had a chance to peruse the dinner menu.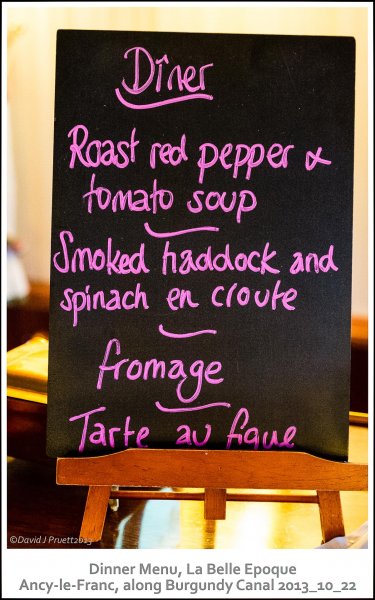 The table, as usual, was set beautifully, this time with a whimsical stick figure made with the spoon and napkin.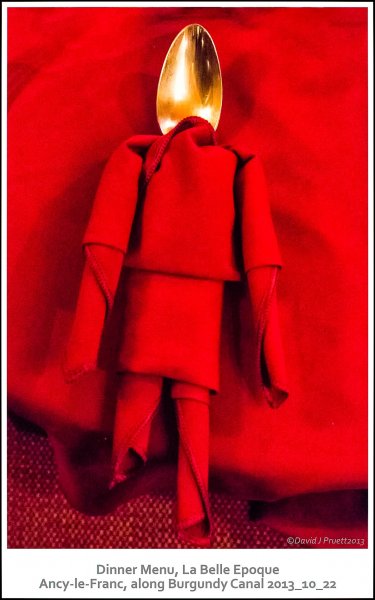 Our first course on this evening was Roasted Red Pepper and Tomato Soup.
The sweetness of the roasted red peppers plays very nicely with the acidity of the tomatoes. A dollop of crème fraîche and some crunchy croutons and I was a child again eating tomato soup and grilled cheese for lunch, except Campbell's soup never tasted this good.
We're in France, so we need some wine with our meal.
The 2003 Louis Jadot Fixin, Côte de Nuits, Burgundy, France was served with the soup. For those of you who are unfamiliar with Burgundy labels, let me explain what this one tells us. The year is obvious: 2003. That was a very hot year in Burgundy. Reds generally turned out well, but the whites lost a lot of acidity in the heat, and it's the acid backbone that makes a wine lively and crisp.
Louis Jadot is a large and very well known producer in Burgundy. They own many acres of vineyards and purchase grapes from many other growers. They can produce 2 or 3 dozen different wines in a given year, many among the most expensive and sought after in the world, others inexpensive and intended as everyday wines.
The rest of the name tells us where the wine is from: Burgundy, which you may remember is a large wine region producing red wines (almost always Pinot Noir) and white wines (almost always Chardonnay). The Côte de Nuits is the northernmost section of the main region of Burgundy (Chablis is farther north and west) and Fixin is in the northern part of the Côte de Nuits. Once again we refer to the excellent Burgundy Wine Map provided courtesy of the folks at Wine Folly.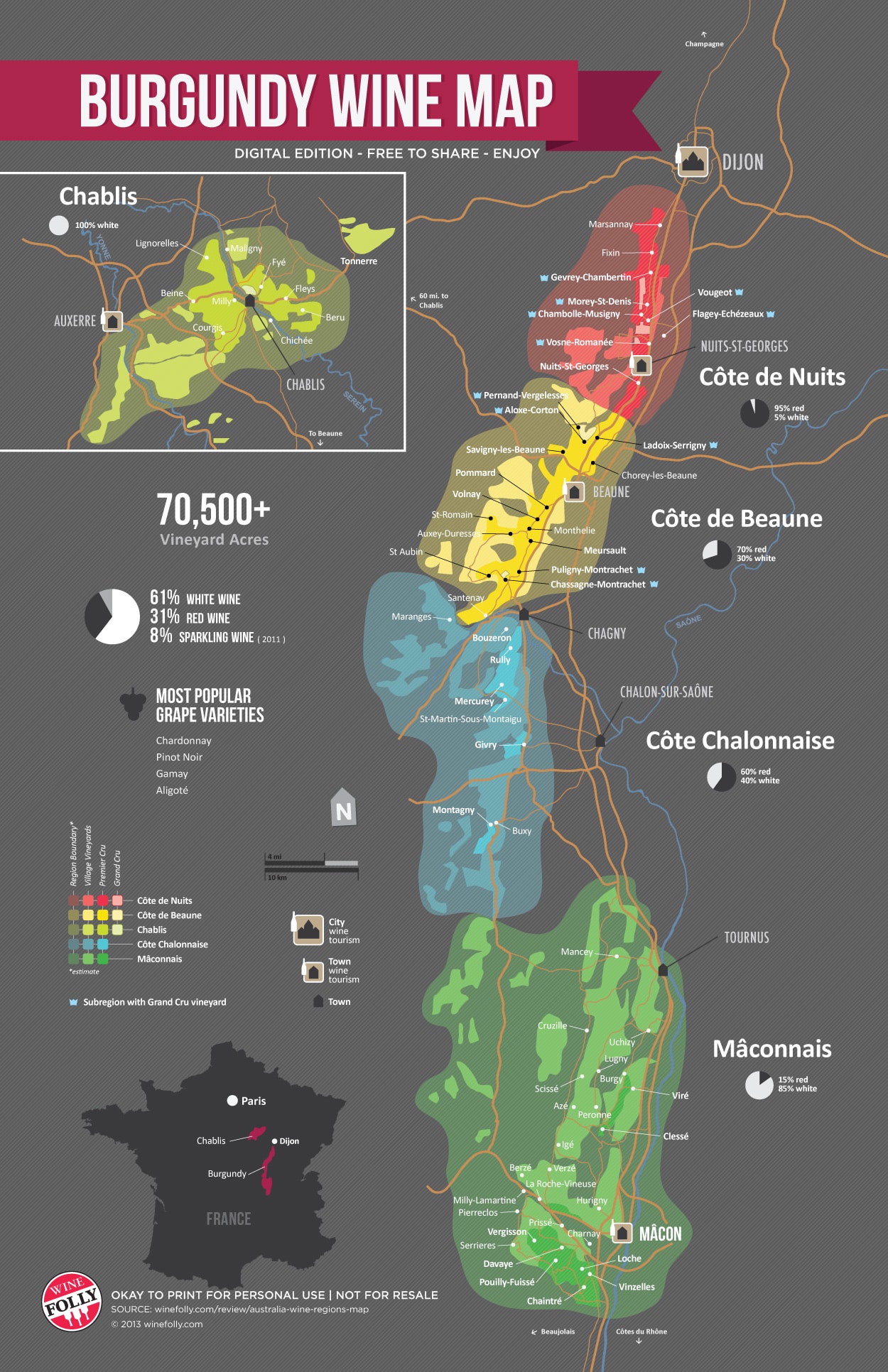 Most (about 95%) of the grapes grown in and around Fixin are Pinot Noir, but there is a little Chardonnay and the 2003 Jadot Fixin is a white wine. Consistent with the vintage, this is a medium-to-full bodied wine with ripe fruit aromas and flavors dominating, although some of the characteristic Burgundian minerality also came through. The acid backbone was there, but that could have been added during the winemaking process. (Wines can be legally acidified in France, but not in California.) Really a very nice wine for the vintage.
A word about the name: Fixin. If you speak Southern American English, you will know and love the word fixin' . The word is an abbreviated form of "fixing" and would be used in a sentence like "I am fixin' to go to work," meaning "I am getting ready to (or about to) go to work." It is pronounced "FIKS-in." It's a great word and is not to be confused with "fixins", as in "make mine with all the fixins", which means "make mine with all the toppings (or side dishes)."
In French, Fixin is a name and is pronounced like this:
The reds and whites from Fixin are often delicious and reasonably priced.
The main course on the night was Smoked Haddock and Spinach en Croute: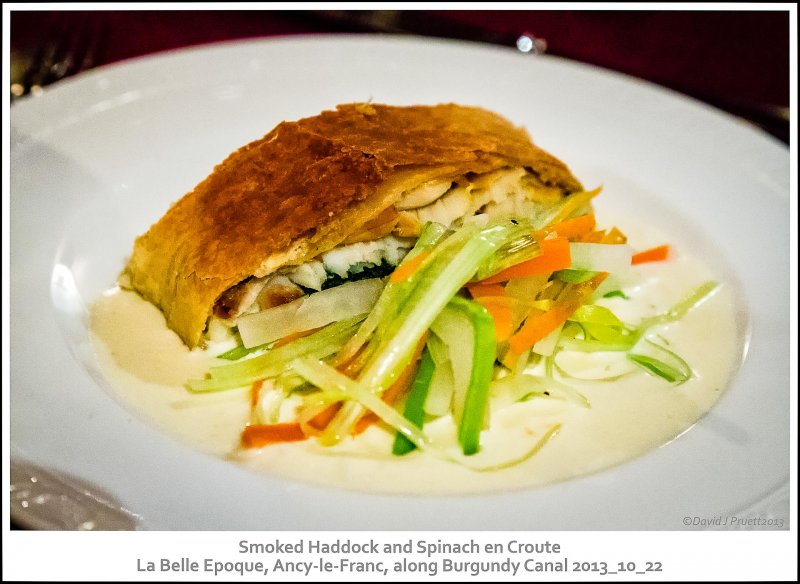 This is a quintessential French dish: delicately smoked fish wrapped in a flaky pastry with fresh spinach and baked. Served with a light cream sauce and sautéed julienned (cut into strips) vegetables, it was utterly delicious.
You may have learned by now that the old "white wine with fish" rule is more of a guideline than an absolute law. Red wines can match beautifully with fish, depending on the wine, the fish, and how the fish is prepared. In this case, the smoke, pastry and cream sauce set this piece of fish up to be enjoyed with a red wine. (A big white would have been perfectly fine as well.)
The 2010 Jean-Luc Colombo "Terres Brulées" Cornas (Syrah), Rhone, France, however, was a surprisingly big wine to be served with this dish. Let's unpack the name and see what we can learn.
First, let's figure out where the wine is from. We've left Burgundy and gone to the south of France, to the Rhone Valley (thank you again, Wine Folly, for the map).
The Rhone Valley is a large, complex area and we won't try to sort it all out here. It is divided into the Southern Rhone and the Northern Rhone. 95%+ of the wine in this region is produced in the south. At least 10 red wine grapes and 9 white wine grapes are grown and blended in the South, which produces generally big wines at reasonable prices that are great with food and often delicious. You may have heard of Châteauneuf-du-Pape, where some truly outstanding red (and some white) wines are produced. We'll leave the Southern Rhone for more detailed discussion on another day.
The Northern Rhone produces a much smaller volume of, on average, higher quality wine than the South. Reds are always primarily Syrah, which, in some areas, can be blended with up to 20% of Viognier, Marsanne and/or Roussanne, which are all white grapes. This is not as odd as it sounds as many famous red wines, such as Chianti and Chateauneuf-du-Pape include small amount of white wine in the blend.
The Rhone Valley is the ancestral home of the Syrah grape and it makes some extraordinarily delicious, powerful and long-lived wines here. The grape also does very well in parts of Australia (where it is called Shiraz), as well as in parts of Spain, Chile, Argentina, California and a few others wine regions. It is arguably at its best in the Northern Rhone, but I do love a big Ozzie Shiraz, as well as some of the great Syrah-based wines from Priorat, Montsant and Toro in Spain and the outstanding Syrahs from western Sonoma producers such as Failla and Peay in California.
Our dinner wine was a classic Cornas. Cornas produces only red wines and only Syrah grapes are used. They are generally big, often tannic, wines that can be delicious when young, but can also age beautifully. This one was dark with tons of black fruits (cherries, currants, raspberries) and some vanilla oak. Very big on the palate and the fruit standing up to the still rough tannins. This was a really nice wine that would have been much better in a few years. To me, it was a bit too young and a bit too big to match well with the fish course, but that did not bother me particularly. I have a simple solution when I am served a dish and a wine that I don't think play nice with each other. Rather than forcing them together or complaining about the match, I'll just eat the dish first and then enjoy the wine, as I did here. The wine, which I continued to sip after dinner, kept opening up for a couple of hours.
As you can see, the wine also met with Glenn's approval.
Next, the cheese course.
I should have taken notes on what the cheeses were each day, but I didn't. All I can tell you is that we had a blue, a brie-style and a goat cheese.
And finally, a Fig Tart for dessert.
Simplicity itself: sweet, ripe figs baked into a phyllo pastry shell with a little ice cream on the side.
It had been a long day and we were all ready to relax a bit after dinner. Some continued with the dinner wines, others picked an after dinner drink from the bar and some just sipped some water, but there was conversation and laughter that slowly faded as folks drifted off to bed. Glenn and Eric decided to have a soak in the hot tub with drinks and rubber duckies.
Yes, for the record, they were wearing bathing suits!
Tomorrow we'll take a short cruise from Ancy-le-Franc to Ravières, which will be our base for a visit to the beautiful village of Noyers-sur-Serein. The best part for me? Anyone who is interested gets to go with Chef Katy to the market in Noyers-sur-Serein and shop for groceries. I can hear some of you asking "He is excited about going grocery shopping on vacation!?" Yes. That's just the kind of foodie I am. But don't worry. Even if you have no interest at all in food markets and groceries, you will love the sites I show you in the next chapter of this series.
The photo gallery contains many images not included in the text.
All images were taken with a Canon 5D Mark III camera and a Canon EF 24-105mm f/4 L IS USM Lens or a Tamron AF 28-300mm f/3.5-6.3 XR Di LD VC Aspherical (IF) Macro Zoom Lens (now discontinued; replaced by Tamron AFA010C700 28-300mm F/3.5-6.3 Di VC PZD Zoom Lens) using ambient light. Post-processing in Adobe Lightroom® and Adobe Photoshop® with Nik/Google plugins.
The author participates in the Amazon Affiliate Program, but otherwise has no affiliation with European Waterways or any of the locations and products described in this article.